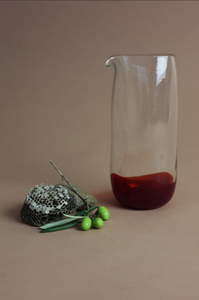 Lope's fourth collection, 'Crystallis' is inspired by raw materials, namely precious stones and rocks, found in nature. The glassware range, consisting of pitchers and drinking tumblers, explores the process of refining raw elements. A hint of colour gradating into a clear glass form, exemplifies sophistication in it's final state. 
Height: approx. 20cm
All glass in this collection is meticulously hand blown by Patrick Wong, in his Mordialloc studio. Please understand each piece is handmade, so the size and shape of individual pieces will vary.