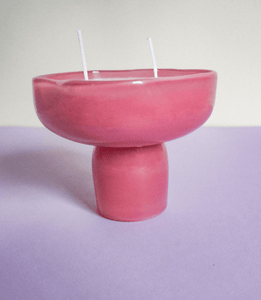 Feast your eyes (and nose) on the latest Lope collaboration with makers P0LY Designs and scent extraordinaire Broad Strokes. Each O.T.T Candle is handblown and poured right here in Melbourne. Being handblown you can expect a completely unique glass shape, no two candles will be the same.
Frangrance - "Mental"  by Broadstrokes
The course to find daily ritual can take many guises, but this one is compiled of 36 grounding essential oils and no sneezing.  Dry, woody and resin heavy, just like your favourite tree. 
Notes - Santal, Geranium, Chamomile, Neroli, Vetiver, Myrrh, Ambrette, Incense, Patchouli  
Once you have finished burning your candle, we suggest using it as your incense burner to keep the zen times flowing.
-------
This product is made to order so please allow 10 business days for delivery.
Thank you for supporting us - your purchase creates a job for 4 people.